Update: AdWords Express campaigns are now Smart campaigns. Even though the name has changed, the points in this article still stand! Learn more about the change.
Google's AdWords Express is an advertising platform that is widely used by small business owners. Google promises: "more customers with easy advertising!" And then: "Set up your online ad in 15 minutes and let Google do the rest."
With such bold promises, it's no wonder so many businesses choose Express. If you're thinking about running AdWords Express ads, read this post before committing.
If you're already using AdWords Express and are frustrated by a lack of results (or an empty bank account), read the FAQ at the end of this post for help switching from AdWords Express to AdWords.
Unfamiliar with advertising on Google?
You can pay to get your website shown at the top of the search results right away with Google AdWords! That sounds great, doesn't it? If your website doesn't rank high organically in the search results, AdWords is a great way to get your website in front of people that are searching for what you have to offer. For example, all of these plumbers are paying Google to get their website in front of people searching for plumbing services:
What is AdWords Express?
AdWords Express is "easy online advertising", according to Google.
In short, AdWords Express is an oversimplified version of AdWords that is fast and easy to set up. But if there's one thing we've all learned in life, it's that the easy route isn't always the best route.
"But Google says that they're practically the same! Just look at this chart:"
— Small Business Owner
Sure, AdWords Express and AdWords are similar, as outlined in the chart above — but AdWords gives you control and offers customization options. You wouldn't give advertising money to a random person on the street and say "advertise my business!" would you? That's the same reason why you shouldn't sign up for AdWords Express — you're practically telling Google, "Here, take my money!" And spend it, they will.
So, Why Do Small Businesses Choose AdWords Express?
The main reason: it's easy. Google promises that you can set up your ad in 15 minutes. And who doesn't have 15 minutes to spare?
It's true that AdWords Express is less intimidating than AdWords, and Google's copywriters make business owners feel okay to "set and forget" their AdWords Express accounts. However, if you don't put time into managing your advertising accounts, all you are doing is making Google money and hurting your own bottom line.
People inherently trust Google simply because it's Google. They assume that Google knows what's best and are therefore fine with letting Google take the wheel with AdWords Express. However, what small businesses don't know is the true price they are paying in comparison to what ROI they are (not) seeing.
Remember: Google is a business and they want your money.
Just like how you want your customer's money! Online advertising works, but you need to control it, nurture it, and keep Google's hands out of it.
Why AdWords Express is Awful
Here are a few reasons to not use AdWords Express:
1. It uses broad match keywords.
Broad match is exactly what it sounds like — your ads will appear on similar keywords to the ones you select, such as synonyms and related searches. This gives Google more freedom to show your ads when they want, and increases the likelihood that your ads will appear for irrelevant searches.
For example, one of our clients (a caterer) who used AdWords Express had a bid for the keyword edmonton catering companies. Sounds like a great keyword for that type of company, right? Think again. Because Express uses broad match, the ad ended up showing to people searching for edmonton pig roast companies, which is something they absolutely don't offer.
The real kicker? You are only able to see this if you view the account in real AdWords — AdWords Express doesn't show the actual search term the user searched to get to your site. Such a good secret keeper, that sneaky, sneaky Google!
2. You cannot specify the keywords you want to use or how much you want to bid.
Instead, you choose categories, as shown below:
This gives Google full control over what keywords your account bids on — and if they don't have a keyword in one of their lists you want to bid on, you can't add it manually. You can only toggle keywords on or off, but since they are broad match keywords it doesn't really matter if you turn off a keyword, because a search for another broad match keyword could easily trigger a similar irrelevant ad result.
Not being able to specify how much money you want to bid on certain keywords is also a huge downside of AdWords Express. The control Google asserts over your account with Express can easily lead to higher cost-per-clicks and tons of money being spent on keywords that aren't converting.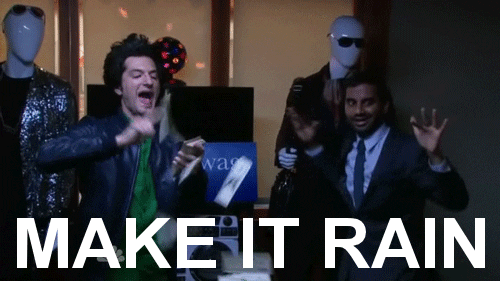 3. You cannot add negative keywords.
Negative keywords are keywords that you don't want your ads to appear for. This is very important! If you offer a premium product, you can put in cheap, low cost, and inexpensive as negative keywords in real AdWords so your ads don't show to people that are looking for budget options. In Express, you can turn off keywords that you don't want to bid on, but this won't actually keep Google from showing your ad for that keyword. Your ad could still show to a searcher using one of your negative keywords through another broad match keyword.
4. You cannot create ad extensions to enhance your ad.
Ad extensions include callouts, sitelinks, and structured snippets. These different options enable you to show more information to the searcher and give them more incentive to click your ad. Below are two ads. One is an ad with no ad extensions (probably using AdWords Express) and the other is an ad that uses the callouts (text separated by the dots) and sitelinks extension (additional links at the bottom of the ad). Which ad would you click on?
In summation, a lack of control over what keywords you're bidding on — and how much you're paying for them — is why AdWords Express is terrible. If you're using AdWords Express right now, you're probably wasting money on irrelevant keywords. The customizability and control you get in real AdWords provides is what separates it from AdWords Express.
But don't just take our word for it! Read this Twitter thread where other industry professionals express their distaste for AdWords Express. Or, simply check out the search results for the query "AdWords Express Bad".
Mini FAQ:
I have ads running on Google right now. How can I tell if I'm using AdWords Express or AdWords?
The easiest way to tell if you're using AdWords Express or AdWords is to look at your browser tab. If you see AdWords Express as the title, you are using Express, but don't panic! You can switch to using AdWords.
I am using AdWords Express but want to use AdWords instead. How do I make the switch?
If you see three dots in the top right hand corner of AdWords Express, click on them and choose "View in AdWords". Now you're in AdWords!
If you do not see the three dots, contact Google support and they will change your account from AdWords Express to AdWords:
866-246-6453
Available Monday–Friday from 9am to 8 pm EST
Important: Just switching from AdWords Express to AdWords isn't enough! When you switch, the exact campaigns you had in AdWords Express are moved to AdWords — if you do not change them they will continue to waste your money. Now that you're in AdWords, you have more control over what keywords you're bidding on and how your ads appear. You can either edit your AdWords Express campaigns or start from scratch and set up new campaigns. When updating keywords or adding new ones, remember not to use broad match keywords! If you do, you'll be in the same boat as if you were using AdWords Express (using broad match modifier is okay though).
I'm interested in learning more about AdWords so I can manage my account. Do you have any recommended resources to get started?
The best place to start Google's plethora of articles, videos, and guides. Here are a few quick links to help you get started:
Of course, there are a ton of companies blogging about AdWords too — a quick Google search for "AdWords Guide" or "AdWords for Beginners" will get you started in the right direction!
I am using AdWords Express, but don't have time to manage my own campaigns with AdWords. Can you help me?
Yes, we can manage and optimize your account for you. We can also train you to manage AdWords in-house, and we offer coaching! AdWords isn't as scary and intimidating as it seems, we promise. Managing your own AdWords account is more cost-effective and you can put the money you'd be spending on an agency managing it for you towards a larger advertising budget. Get in touch with us and we'll help you decide how to move forward,