Dog Jogs provides dog care services to dogs and their families in the Edmonton area. They run and walk dogs (at a speed and to a distance appropriate to each dog's health), and are available for puppy check-ins and dog-sitting as well.
When Nikki Lepine first adopted her dog, Koda, she relied on family and friends to help care for and exercise him while she worked long shifts. Knowing Koda was tired and content gave her peace of mind. This experience, and their love of dogs and exercise, inspired Nikki and Steph Law to start Dog Jogs. With a mission to help ease the minds of busy and loving dog owners, Dog Jogs tailors their services to the unique needs of their four-legged (and tri-pawed!) clients.
Client Goals
To book consults with new clients and create a recurring client base
To build brand recognition in the Edmonton area
Visual Identity
Nikki came to us knowing she wanted her favourite colour (teal) to anchor Dog Jog's colour palette, and wanted a logo that was friendly but respectable. There are a lot of cheesy or poorly executed logos in the pet industry and she knew she could do much better than that! Keeping that in mind, we designed a minimal icon of a dog wearing running shoes that pairs with a rounded sans-serif font to become the friendly Dog Jogs logo.
Marketing Collateral
To assist in building a client base, we created a number of promotional materials for Nikki and Steph to hand out. We set up Dog Jogs with Call Rail, a service that provides call tracking, to get them a main business number to direct to their phones. We then took advantage of a promotion for free business cards that Jukebox was having at the time — Dog Jogs went through their first round of business cards very quickly, and have since ordered many more!
We designed stickers and 10% off vouchers for them to hand out while they were our walking at dog parks and other places potential clients would be with their dogs. Posters were created to hang in fire halls, hospitals, and other shift work businesses, where employees have to be away from their dogs for long periods of time.
After seeing the Dog Jogs stickers, Nikki's mom contacted us and asked us to order buttons to surprise her daughter with!
Website Design & Development
Nikki and Steph first tried building a website on their own using a default theme from WordPress.com, but found the theme limited their ability to showcase their work and services in a fun and engaging way. We worked with them to clean up the theme so they still had an online presence while their new website was being developed.
Because clients are inviting Nikki and Steph into their homes, and are relying on them to care for their four-legged family members, we wanted to use large images showing dogs interacting with the Dog Jogs team. Big, bright images and client testimonials on every page of the site highlight their happy clients and build trust with new visitors.
The design uses moving elements (parallax scroll) to represent the active nature of their business. The bright colour scheme compliments the teal and grey used in their logo, and works well with dog photos from each season.
A Book Now button is fixed to the side of the screen so that clients can schedule appointments easily easily. The Book Now button is located at the bottom of the menu, right in the thumb hotspot on mobile. A generous amount of whitespace is used to help the content and calls-to-action stand out, and the background colour changes to keep people engaged with the content.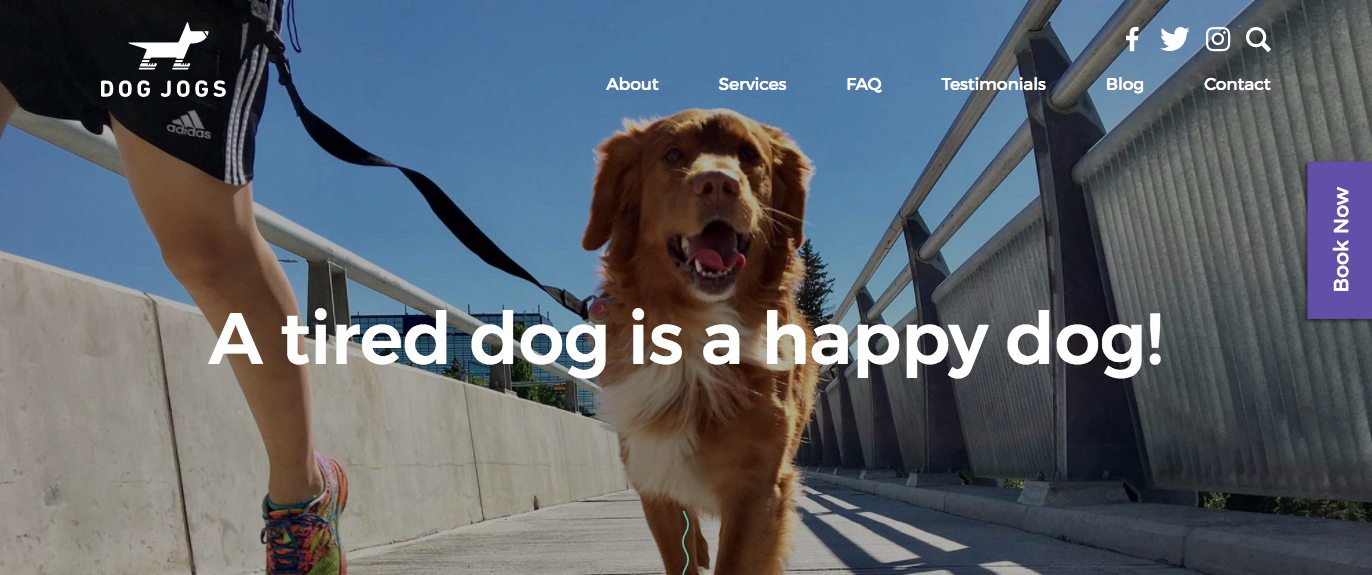 Results
Getting a panicked email from a client is usually terrible, but in this case, when Nikki emailed to tell us how many recurring clients and new consults she had booked in a single week it was an exciting kind of panic! The easy-to-use website, the compelling images of the Dog Jogs team in action, and the excellent first impression Steph and Nikki make (on people and dogs!) all contributed to how quickly Dog Jogs has had to start hiring.
We did basic SEO and Dog Jogs already shows in the first search results page for all of their top search phrases — however most of their new traffic comes from their Instagram (which is a must follow)!
The Dog Jogs website won a CSS Winner Star award and a CSSDA Special Kudos Award in October.
Reflections
We usually don't get to have a completely fresh start with a brand, so this was an exciting opportunity for our team. We take pride in all of our client relationships, but have to admit there is something particularly compelling about helping people launch a new business.
Plus, we got to spend hours looking at dog photos — you really can't put a price on that!