Google My Business, formerly known as Google Places, displays your business's information on Google's search engine, maps, and Google+. A Google My Business page is a must — it is a very important part of how you show up when people search for your products and services.
You want your business to show up on Google like this:
Not like this:
Miramar Surf Camp, where one of our freelancers is currently staying, doesn't have a phone number or website listed — all important things that people are looking for when they search for a business. Also, the business is located in Puerto Sandino, not Leon. (Oops.)
Or even worse — you might not show up at all. If you have a new business, then you need to get on Google. This support page from Google is a great resource to help you get started on Google My Business.
If your business isn't new, you may be thinking, "I can see my business when I do a Google search — how do I get access to the business page?"
Never fear! It is a very simple process. (Kind of.)
First, you have to look and see if the business is claimed or not. If it's not claimed, you should see a line of text that says, "Are you the business owner?" This can be found at the bottom of the box Google provides when searching for your business or using Google Maps. Click the link and follow the steps — the business should be under your Google account in no time. (Note: we recommend setting up a Google account using a business address. e.g. Using [email protected] instead of [email protected].)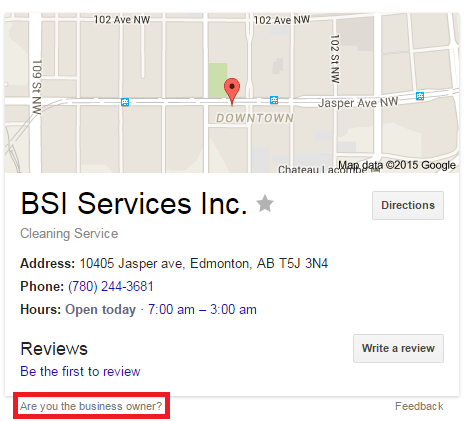 If you don't see "Are you the business owner?" under your business, then a few more steps are involved, as it means that someone else has claimed your page and is managing it.
Thankfully, Google provides steps on how to claim a page that has already been verified by someone else. Once you've gone through these steps, Google will send you an email saying that they've provided the current page owner with your request for access to the page. The email from Google will read, "If the current owner hasn't responded to you directly within 4-5 days, please reply to this email and I'll take additional steps to follow up."
However, if you don't hear back from the current owner, responding to the email from Google will not work. If you try replying, you'll receive an auto-response saying:
"Oops! Looks like you're trying to contact the Google My Business Team (formerly Google Places), but unfortunately your message will not reach us this way. Please contact our Google My Business support team by visiting the Google My Business Help Center and clicking on the "Contact us" link."
If only they told you that in the first place, right? Of course, one cannot simply contact the almighty Google, the almighty Google must contact you. The next step is to fill out yet another form on their contact page.
You can request either a call or an email from Google. I personally like the email form a lot better, as there is a spot to provide Google with more information (like how you've already gone through the process of requesting ownership of the page).
Once you and Google work things out, you should see the page in your Google account! To easily access your business page, simply sign in to Google My Business. Be sure to review your business's information, and update it so it's complete and correct. Congrats — you've conquered (one small part of) Google!
But you're not done yet. Next, you need to do a Google search of your business's phone number or alternative names and addresses the business may have been listed under in the past. If you find a duplicate page, it's time to exterminate. If you see the option to claim the duplicate page, simply claiming the page and then deleting it will not remove it from Google. Google has a handy guide that walks you through the process on how to request the removal of duplicate locations. An easier way to get to the "Report a Problem" form that's described in the guide is to click the "Feedback" link under your business's listing when you search for it. Writing a note under the "Other" section is probably the best way to report that it is a duplicate that should be removed.
After you submit the report, Google will email you and let you know that it is being reviewed. (Something may happen, or nothing may happen — good luck with that!)
Overall, dealing with Google can be frustrating. If you come across a problem or get stuck, the Google Help Center is a valid resource to check first. If you can't find an answer there, then you can also search the Google Product Forums for answers to questions that other frustrated users have asked.
And when in doubt, contact Google.